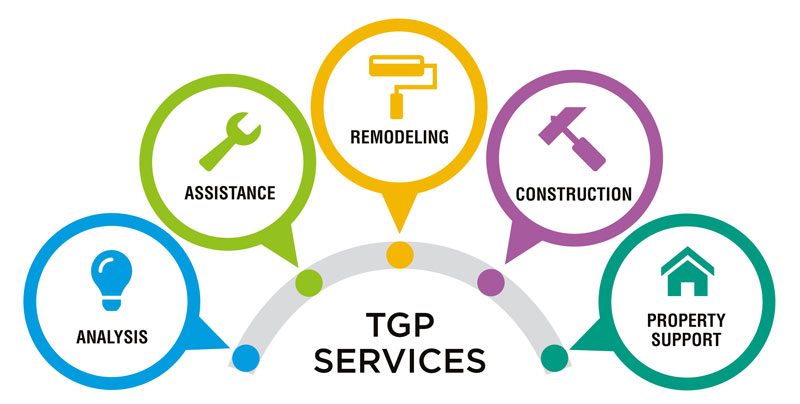 T.G.P. offers a wide range of services to facilitate the efficient management of your property, increasing its savings capacity. Our focus is your comfort.
Propomo-nos a fazer uma análise criteriosa das despesas relacionadas com o seu imóvel, identificando consumos desnecessários e propondo soluções de poupança.
Oferecemos aos nossos clientes um serviço de manutenção e assistências de proximidade, fiável e de confiança. O seu conforto é o nosso foco.
A T.G.P. garante o profissionalismo e eficiência para o ajudar em qualquer remodelação que pretenda fazer.
A T.G.P. apresenta várias soluções arquitectónicas, todas elas de elevada qualidade indo de encontro aos mais altos padrões de exigência.
A T.G.P. quer ser o seu aliado na gestão do seu património. Apresentamos estratégias para rentabilizar e manter o seu imóvel.
With a specialized team of technicians, our Analysis and Diagnostics service meets the current needs of home economics and sustainability by developing innovative solutions in the areas of home consumption management.
Endowed with the best technologies, the Analysis and Diagnostics department is able to answer the most varied requests and demands of the Clients.
Our focus is to make the home more efficient in order to reduce consumption and increase the savings of our customers.
Over time, every home suffers from wear and tear influencing the comfort and safety of our homes. We know that the upkeep and maintenance of all equipment and systems in our homes is vital to the well-being of our customers. Thus comes our service, repair and maintenance, ready to solve most of the unforeseen associated with our home.
The management and organization of Maintenance Services presupposes a detailed knowledge of existing equipment and systems. We offer our customers a service that allows them to be rested and prepared for any eventuality. Knowing that to the slightest problem, will have the necessary support.
Like any home, we know that our homes must evolve with us, in other words, our home can and should grow with us. With our growth, new needs arise, hence the creation of our remodeling department.
At TGP each work must fulfill two objectives: the quality of the work and the efficiency in its execution.
If you need to do any remodeling of your home, TGP has at its disposal, a team of experts in the area of ​​remodeling that is dedicated to remodeling and recovering everything that can be intervened in a building.
At TGP you find all the professionalism, quality and competence that are essential when we talk about remodeling work because by presenting our proposal, you also have access to a completely detailed and rigorous budget.
All refurbishments are carried out by a multidisciplinary team of professionals, who understand what is expected as the end result and are dedicated to its materialization.
In addition, we personally monitor your work to ensure that everything goes according to plan, without unexpected situations of changes to the initial budget or extension of works.
Leave the construction of your house with us. Experience a positive, totally worry-free experience with a full and lifetime warranty. We provide a construction support service that ensures peace and quiet of your project.
We present contemporary language architectural solutions with various styles and typologies, all of them of high spatial and aesthetic quality, meeting the highest standards of demand.
We work with several partners all of them accredited modular home suppliers. This is an innovative construction concept that starts from a base module that is replicated to create a configuration that adapts to the characteristics and dimensions of the terrain where it will be inserted and the premises presented by customers.
This construction method offers a number of advantages, which result in rapid construction, high thermal comfort, excellent sound insulation, no condensation mold, no debris from building work, high standard of finishes and good value for money when it comes to construction. compared to conventional construction.
On the other hand, there was a need to eliminate the stigma of prefabricated buildings, which is inevitably associated with a standard construction.
Once the needs have been identified, we begin the research on materials to use, the development of base models and the elaboration of studies related to the thermal, acoustic, seismic, wind, etc. behavior. In this field, it has always been a priority to have a solution driven by quality standards.
In business, as in private life, all successful relationships are based on trust. TGP has its foundations based on cooperation, sense of commitment and loyalty to its customers.
We aim to develop strategies and processes to better meet our customers' needs and thus guide them forward using the most up-to-date and secure methods in the industry.
TGP offers its clients a complete property management service.
Call Now: +351 932 456 835